The Definitive Guide to Managing Multiple Projects at the Same Time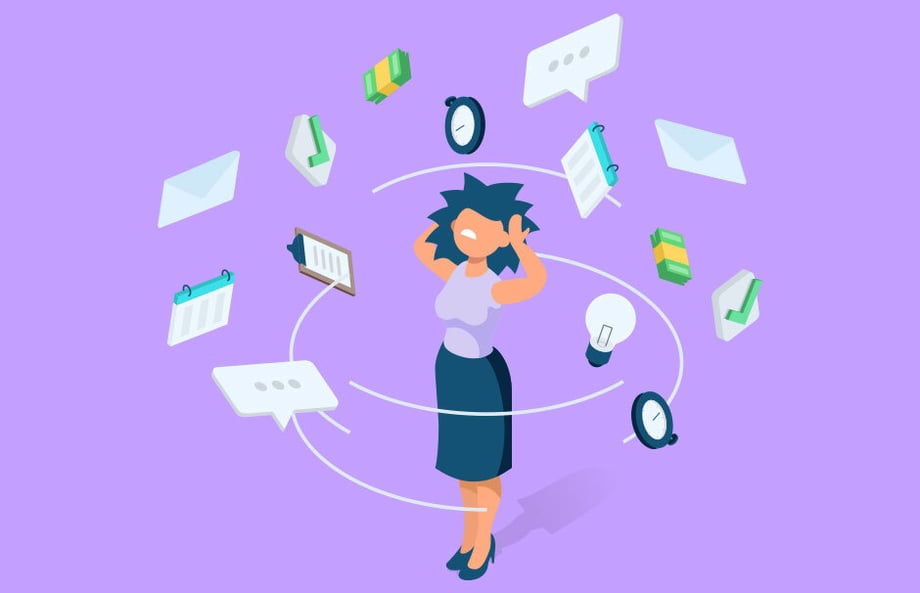 More often than not, the role of a project manager implies managing multiple projects. Forecast's survey has shown that the average team member is assigned to 18 projects at the same time, while professional services companies are typically running 43 projects concurrently.
This is not surprising at all, as running initiatives in parallel tends to be more cost-effective for organizations. To survive in the competitive market, remain profitable, and scale, they have to overextend and constantly make new commitments.
Nevertheless, attempting to run too many projects at the same time is the second biggest challenge project managers face, according to Wellingtone. The problem is that companies often get too optimistic about the volume of projects they can take in.
So we're here to show you how to manage multiple projects simultaneously without disappointing anyone who has a stake in the initiatives you run. Feel free to jump to the section that's most interesting to you:
Challenges in managing multiple projects
For a project manager, most of the time, managing multiple projects means a couple of things – an overwhelming number of projects, a switchover from one to another, a resource-strapped environment, and attention dispersed throughout multiple clients and needs, and so on and so forth. Even worse, project managers are often exposed to time-consuming administrative work, such as endless re-planning in a spreadsheet.
The main difference between multi-project management and single project management is that tasked with more than one project, at some point, project managers start to lose ground under their feet. They no longer know where they currently stand. They can't instantly report on the progress of each project without combing through their spreadsheets and connecting the dots. It takes time, you probably know that feeling from trying to automate MS Project or generate reports out of Jira.
The more projects you get to manage in parallel, the more likely it is that you can get overwhelmed. Keeping track of multiple projects becomes extremely difficult unless you have a holistic overview of what's happening right now. Updating your plans is another page. Working in a multi-project environment, you'll face many changes along the way and you'll have to see how they reflect on your plans.
On top of that, multi-project management also involves shuffling resources. You'll rarely meet companies that have dedicated teams focused on one project at a time. What happens in the real world is that people get overbooked with work and there is no way to spot who's doing what. In fact, as long as you manage multiple projects with the same resource pool, you are dooming everyone to heavy-duty multi-tasking, which takes a toll on productivity and is not a good thing whatsoever, as proved by American Psychological Association.
Another issue is that it's difficult to plan your way out to reasonable deadlines without a clear set of priorities. Many project managers complain that they are pushed to prioritize on three deliverables of scope, budget, and quality simultaneously. Imagine this happening on all of your projects.
But how do experienced project managers tackle these problems? How can project managers finally feel like fish in the water when upper management approaches them with questions about the project progress or asks to present yet another report?
9 strategies to manage multiple projects successfully
Here are some best-fit practices, tricks, and tools for managing multiple projects and staying organized.
Learn how to manage a single project first
Develop a master plan and schedule
House your projects in one place
Delegate work
Decide on a resource allocation type
Avoid micromanagement
Review and balance the workload
Have regular check-ins with the team
Manage expectations
1. Learn how to manage a single project first
Before you jump to managing multiple projects, objectives, and deadlines, you need to master the art of running a single project. Make sure you know how to create a Statement of Work with clearly defined tasks, resources, costs, and dependencies, and practiced enough to take multiple ones. Being an expert in managing a single project doesn't mean that you'll be as good at running several projects. The next steps will help you sharpen your skills. Try Forecast's Scoping page that will make your experience as intuitive as possible, or read our guide on how to manage a digital project first.
2. Develop a master plan and schedule
The first step would be to put together a full list of projects, milestones, and tasks you and your team consider to be important into one connected whole. Having one integrated plan and one schedule to track all the milestones instead of a pie chart is a far better approach. Thus you eliminate the proliferation of different plans and schedules when managing resources across multiple projects.
Choosing integrated planning over other approaches, you can plan across multiple functions, levels, locations, and other settings and connect them to align operations, strategy, and financial performance to get a comprehensive overview in the end.
In fact, a master plan will let your team stick to a single project management methodology, and literally help everyone stay on the same task list page. Particularly, you'll see the benefit of having a shared plan working with cross-functional teams.
If you run dedicated teams, you would like to plan project by project. The scenario would be similar to running a single project, multiplied, but require a bird's eye view of your projects and clear resource management tactics. In both cases, you might need a tool to help you out with organizing and connecting it all together. Check the benefits of using project management software here.
3. House your projects in one place
Don't make the mistake we've all made. Do not scatter your projects in different places, and if they're already dislocated, house them all under one roof to have a portfolio view in a single place. Having everything you need in one notebook will enable you to find things faster. Productivity apps like Forecast allow you to keep all your projects linked up. This way, it will be easier for you to navigate, track how the projects are progressing, and identify risks before major issues appear.


4. Delegate work
"Whatever the case may be, your first priority needs to be to learn to let go," writes Jayson DeMers, former Founder and CEO at AudienceBloom.
One person can't do it all. In fact, project managers name delegation, or getting work done through others, as one of the best parts of being a project manager. It's also the most important management skill. Breaking the projects down into tasks, you'll need to assign responsibilities without doing it all, even if you're too hands-on. A multi-project environment will call on you to delegate or assign responsibility every time you:
Allocate a team member to a schedule activity
Entrust responsibility for an action item, issue or risk
Share responsibilities on your to-do list to someone else as part of your personal time management strategy



5. Decide on a resource allocation type
To structure your data and keep track of multiple projects in the best way, you'll benefit from picking one type of resource allocation company-wide. In general, there are two ways to allocate resources, to projects and to tasks. It depends on what methodology has been established in your company and how you prefer to allocate people. We've noticed a trend that companies on the agile side prefer to allocate their staff to projects, while waterfall method requires more precision, so task allocation seems like a better fit.
Task Allocation
Task allocation is essentially a slot of tasks you assign to your team. It works best when you have a list of requirements from your client that can be translated into tasks in advance.
Project Allocation
If you don't know upfront what tasks your team will be working on, but you do want to book a team member for let's say 100 hours over the next 3 weeks, you will want to allocate your team members to a project.


6. Avoid micromanagement
Delegating work, you should also trust your teams and do as little micromanagement as possible, even though it might be tempting to control everything. It doesn't mean you shouldn't estimate tasks or see the progress of your multiple projects.
What you should strive for in a multi-project environment is rather creating a culture of accountability where everyone takes responsibility for their own actions. A safe way to do so is to start working in a project management system and integrate sprint planning into your work.
Having your team work in a system like Forecast that uses AI to estimate tasks will guarantee optimal workloads. As a project manager, you'll still be able to drill down to see the smallest detail without constantly nagging your team.
Working in sprints would bring additional value to the success of your projects. Your teams will become more agile and increase velocity.


7. Review and balance the workload
To effectively manage work on multiple projects, it's crucial to spend some time reviewing the workload. You'll need to have a clear workload management strategy and visibility. So what is workload management exactly? It is the process of allocating and managing work across the team when it is in progress to see if there's a fair share of tasks, if everybody is participating, if nobody is overloaded. Paying attention to employee utilization rates, you can maximize employee performance and leave everyone focused and satisfied. Fair allocation will keep your teams confident about their work volume and increase velocity.
Being in the know is everything you need to manage workloads neatly. The fastest way to find the answer to all your questions would be to use a project management system that has resource management dashboards that work in real-time. Such tools are illuminating when it comes to balancing workloads, as you are able to see the number of assigned work hours or story points per day, per sprint, per month (or whatever you prefer).
In Forecast's schedule, you have a perfect overview to see if the work is divided properly:
While the green boxes show you that the utilization level is fine, the red ones clearly indicate that somebody is overloaded and it's time to take action. In that very same view, you can click on the box, move tasks, and adjust workloads of your team. The beauty of Forecast is that all the adjustments will be automatically reflected in the plan, the pipeline, and everywhere in the system.
Having access to this dashboard, you'll see how the actual workload compares to project estimates and more insights favorable to your project.


8. Have regular check-ins with the team
In addition to balancing the workloads and monitoring the progress on all of your projects, it makes sense to still get into the trenches with your team and have check-ins and one-on-ones with everyone. Managing multiple projects, many obstacles can and will appear. Be ready to listen to what your team members say as they stand on the project front lines. This way, you'll stay on the same page with everyone not only on the screen. In fact, it is a good way to create a culture of psychological safety based on constant two-way feedback delivery.


9. Manage expectations
Project-based work, especially if there are multiple initiatives run in parallel, always involves a dialogue with all your stakeholders. To hold a constructive dialogue when managing expectations on several projects, you might benefit from using the pipeline in Forecast and generating customized real-time reports to show how each project is progressing (together or separately) to the stakeholders.
As in most organizations, a stakeholder's attention span is pretty short and doing so once every three or four weeks can keep them engaged and show them progress or value. If there are changes that some stakeholders would like to implement along the way, which weren't defined initially, Forecast is the way to show them how changes could impact the final outcome, including the budget.
From a practical standpoint, when the tools are not an option in your case, experts recommend holding communication lines open. "The biggest tip I can give you for managing multiple projects at the same time," writes Elizabeth Harrin, the owner of Girl's Guide to PM, "is to keep communication channels open. Keep talking to the team leaders, the project sponsors, the managers. Stay close to what they are expecting from you. Then deliver it."
Being pulled across several concurrent projects as well as playing out the various scenarios is no fun to project managers. Multi-project management is oftentimes chaotic unless you have the right strategy and tools at hand. Using the nine strategies described above, you can overcome the challenges and learn to keep everything organized.
How to keep track of multiple projects
Now, you don't think that several projects can be managed in a spreadsheet, do you? Especially if there are hundreds of projects… You've come across tips, suggestions, and formulas of how to work around that spreadsheet, but failed a number of times?
In managing multiple projects today, technology is king. It can give you all types of intelligent warnings when the project starts to derail, shows you red light when people are overbooked, alerts when dependencies have been violated, creates a schedule in a matter of seconds, instantly builds a financial portfolio report. With all that said, it provides you with a holistic overview that informs your next step.
The engineers behind Forecast took into account all the risks a project portfolio manager might come across and made sure that you're equipped with everything necessary to accomplish multiple projects and do it side-by-side without going through the hassle of administrative work.
You might like

to read these articles on our blog..
Subscribe to the Forecast Newsletter
Get a monthly roundup of productivity tips & hacks delivered straight to your inbox