Get started now
Find out how Forecast can help you better utilize your team, plan your projects and manage tasks.
Trusted by




Project Management
Look months into the future
Have a bird's eye view of the entire portfolio of finished, running, and planned projects in a fully populated pipeline. Understand the actual delivery status against the deadlines and how even the tiniest bit of time has been spent. Know the capacity at your disposal to plan future projects and make informed hiring decisions.
Learn more about Project Management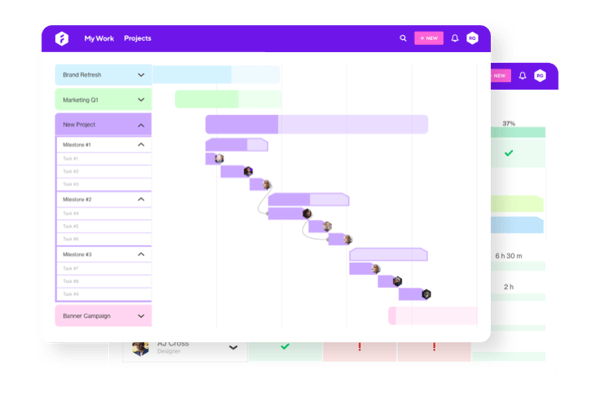 Testımonials
Don't take our word for it
Using Forecast my team has become far more profitable

The team doesn't go over budget anymore, and we see can foresee problems really early with our clients so we can have those conversations at multiple points.

Forecast has freed me up from essentially being a full time resource manager

I'm now ahead of overall delivery and back to running projects. That's because the system is so easy to use.

Hitting and exceeding our 65% margin goal was thanks to Forecast.

We have a much more accurate view of our margins, expenses and costs as they relate to our projects.

Forecast ensures we actually make revenue because the point is margin, right?

It's super key and has uncovered significant losses prior to getting on the platform.

"What Retainers in Forecast have taught us is that there's a better way of knowing how the hours your consultants dedicate to the client are spent."

Investing in Forecast is a no-brainer for us.

It's easier for us to spot inefficiencies before the scope and budget are way overboard and show people where we're at.
Reporting and Analytics
Deliver profitable projects
Make winning decisions and optimize future projects for profitability with a portfolio overview of your project finances and company-wide utilization rates. See the difference between profitable and submarginal projects and relate how different roles on the project affect the numbers.
Learn more about Reporting & Analytics