Herman-Scheer is an agency and a growth studio based in Los Angeles that designs brands for really long, interesting lives. Taking the time to understand their clients' needs deeply, the Herman-Scheer team figures out how to translate them in a beautiful and functional way.
"The reason why we're so successful is that we listen," points out Inbal Ranan, Lead Project Manager at Herman-Scheer. "Our Creative Directors are really hearing out the clients, wanting to do what's best for them. I've never seen an agency where clients would be so overwhelmingly happy with someone's work."
But with happy clients comes even more work, so one of the biggest goals Herman-Scheer set out to accomplish this year was to scale efficiently. "When COVID hit last March, we were 8 people, and we'll probably be 25 to 30 by the end of the year. Forecast has helped us make great strides in being able to understand how to do it resource- and cost-wise," explained Allison Escott, Director of Operations.
Herman-Scheer migrated over to Forecast in March 2021. Before Forecast, Herman-Scheer used a bunch of different project management tools, like Asana and Harvest, combined with Excel. Only a few months into Forecast, they could see substantial benefits across many areas of the business.
We caught up with Inbal and Allison to learn more about how Forecast helps them scale efficiently. What's interesting about this customer story is that it's not only a story of Herman-Scheer's growth, but a closer look at how Inbal and Allison were able to succeed in their roles.
Rising to the challenge
Why would Inbal and Allison put Forecast on their wish lists if they were already using tools that don't even need an introduction? As someone who has spent 10+ years in various management and operations roles, Allison has seen a fair share of project management solutions.
"When it came to budgeting and looking at what something would actually cost us," she told us, "it was difficult to figure that out between all of the different platforms that we were using. We had to trust that people were tracking to the right tasks, and that things were lining up. I think we all knew the data was fairly inaccurate."
"We had project management happening in Asana and used Harvest Forecast for time tracking and mapping out people's schedules based on their capacity, which is something that Asana didn't do. We also scoped our projects using a separate Excel spreadsheet that we put together," explained Inbal. "Lots of things were happening in different places. The spreadsheet was just to determine the cost of projects, where we'd have everybody's rates, calculate how many hours the tasks would take, and then put together budgets."
For Inbal, this setup meant doubling down on the same things over and over. "If the dates of a task moved, it had to be re-done in multiple platforms, and that was extremely time-consuming."
So working in different systems, Inbal and Allison found it near impossible to calculate how long a task took and what it cost. Each operation seemed to be a black box with inputs going in and outputs coming out, but not much attention was paid to how they were connected.
What didn't exist in their previous systems either was a functionality that could make sure that people have the right amount of work on their plates. "Being able to estimate how long a task would take, you need to be able to see how long it took in the past and learn from that. It becomes much harder when people aren't tracking directly to tasks," Inbal explained.
Finding a solution
Funnily enough, when Inbal joined Herman-Scheer, she was looking for information about the Forecast that integrates with Harvest and accidentally found Forecast.app. Before long, she realized she was now dealing with a full-suite 'grown-up' platform that could replace all their existing project management and time tracking tools.
"It was a very natural transition. As I've been leading most project management initiatives, Alison was interested in finances and reporting. Forecast fulfilled the needs of both sides," pointed out Inbal.
"For me, the two main factors to migrate to Forecast were having everything in one place, so we didn't have to make updates and risk data not being accurate across platforms, and then also financial reporting," Allison commented.
How Inbal uses Forecast to plan, manage & track projects
As Herman-Scheer moved to Forecast, they started planning out projects more granularly because that's the way that they needed the data. Inbal templated out a handful of their processes.
"A majority of the time we get a project in, I get some information about it, how much the budget is, sometimes what team members we'd like allocated to it. I will either duplicate a template that I have already set out and then just move some dates and assign people. Or I will just start from scratch if it's a little bit more unique."
"If we don't have a fixed price and want to figure out how much the project is going to cost, I'll plan it all out in Scoping and then use the cost that I get on the plan to determine what we're going to be charging the customer. My process now boils down to planning the project and assigning people."
"Pretty often, I'm going back and forth between the project plans, the capacity, the utilization, and the Schedule People tab. I always call it playing Tetris, where I'm just trying to figure out where things line up for people and their schedules, who can take on what types of projects based on their skill set, and also based on their availability."
"I think, maybe somewhat unique to the way that we use Forecast is that we've created some virtual seats because we do bring in freelancers or contractors from time to time. So we use those placeholders to plan out when we might need additional help. Today, our whole team tracks time, and we give the responsibility to each individual to mark their tasks. So as the project manager, you're just checking in on people's tasks and where they're registering time, paying attention to how much time was spent on certain tasks. In that way, in the future, I can estimate better on projects."
How Allison uses Forecast to get clarity on project finances
As any Director of Operations, Allison dabbles in the reports.
"The level of financial reporting that we get from Forecast is far and above anything that I've seen in any project management tool that I've ever used. And just having it all in one place, we have a much more accurate view of our margins and expenses and costs as they relate to our projects, which has been super beneficial to our business."
"We have a capacity planning meeting every week, where Inbal goes over everyone's schedules, and we talk them through with the creative directors who lead each of our service lines to make sure we've got everything covered."
"As we're also transitioning to a new accounting partner, we're changing how we are looking at our agency financials. So I export reports out of Forecast for them. That's how we tie expenses to projects. We look at percent completion for each project so that we can recognize the revenue."
"The reporting we get out of Forecast is unparalleled in the industry. Our margin goal is typically 65%, and we hit it as Forecast's Project Portfolio Report helps us understand whether we're going above or below that number every month."
"Forecast takes off a lot of the burden of admin work from project management, too," Inbal says.
Herman-Scheer's achievements
After migrating to Forecast, Allison and Inbal have seen many improvements, especially in cutting admin time and getting more clarity on project financials.
"Forecast has reduced the amount of time project managers spend making project plan updates and just ensured that the teams are on the same page," Allison told us. "Before, the delivery team would spend a lot of time asking project managers what they should be working on. Today, everything is updated in one place, and everyone can focus on the most important things without nagging their team members all the time."
In turn, Inbal has reported huge time savings on planning projects. "It's significantly cut down the amount of time that it takes me to plan a project. Being able just to duplicate the milestone and drag it out has enabled us to plan out further in advance and cut 80% of admin time."
"I remember feeling at certain points with the previous software that I would get anxious. If I were to change something on a project and it didn't turn out to be what I wanted it to be, and I wanted to go back, it was tough to reverse. With Forecast, it's so simple. I can slide the task back and forth, and it takes me no time at all."
Having to enter multiple data points in different places was both financially and emotionally draining, not to mention the time it took to train and onboard new joiners into a few systems. "Now it's so much easier because previously we would put it in a spreadsheet, then we would put it in Asana, then we would put it in Harvest, and finally we would put it in Harvest Forecast. Today it's seamless all the way through," Allison said.
"I don't know if we could even have the time to plan all of these projects as we were growing if it wasn't for the fact that we've moved to Forecast. I don't think we would have sustained the growth in terms of the workload I would have," added Inbal.
"Without Forecast, we would probably have to hire a whole other project manager," she emphasized. Eventually, that could cost the business twice as much as investing in the platform.
Additionally, both Inbal and Allison have been able to see where people's time is going in a way that they didn't see before. It helped them spot buckets where time was getting thrown into, as it wasn't really put into projects. They can now notice which tasks take much longer than what had been estimated.
As Herman-Scheer transitioned to Forecast, Inbal was promoted to a Lead Project Manager.
"I kind of feel my promotion and transition to Forecast came hand in hand in a way. I don't separate them in my mind," Inbal noted. "One of the main pieces of my role is to make sure that people are happy, not overworked, not underworked. Being able to see things in Forecast and know that I'm planning appropriately has given me more time to spend on important things."
When we asked Allison whether Forecast helped her succeed in her role, she mentioned that overseeing the HR, finance, and project management departments has become more accessible.
"When do we need to hire? Can we afford this person? What are our margins? Are we making money on this project? I couldn't succeed in this job without Inbal, Forecast, and all the data that we get," Allison reflected. "Forecast reduces a lot of the speculation we had before just in terms of how we should hire and manage the finances of the company. Now, we're a lot more dialed in, which was a big goal of mine when I started."
Herman-Scheer have barely scratched the surface of everything that they could do with Forecast. Whenever playing around, they learn something new. "I feel like there's even more value that we could be getting out of the platform as we get further into it," Inbal believes. We can't wait to check back in with them further down the line to see what more they've achieved by using Forecast!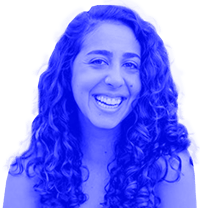 Inbal Ranan
Lead Project Manager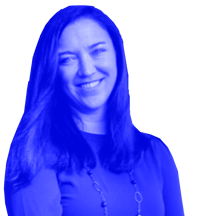 Allison Escott
Director of Operations