Québec-based digital agency O2 Web positions itself at the 'crossroad of strategy and technology' to deliver innovative e-commerce solutions for growing brands. Charles Guimont founded O2 Web in 2006 while he was still at university, starting out as a one-man-band, and growing the agency from strength to strength ever since. Now, 17 years later, O2 Web is a full-service agency with a team of 80 people across two locations in Canada, providing market-leading bespoke e-commerce solutions for businesses who are serious about their digital image.
But as you scale as a professional services vendor, your project management processes can hold you back if they don't meet your growing needs. Project work has always been the backbone of O2 Web's business.
"It makes up about 90% of what we do," says Charles, "For example, we have around 200 projects running in Forecast at the moment!"
Before they moved to Forecast, O2 Web felt the pain of having a project management system that was not fit for purpose. Outwardly, things looked great: they were delivering sleek, beautifully designed e-commerce channels for their customers. But behind the scenes, Charles' team was dealing with a grabbag of systems that didn't connect, jumping between Harvest for time tracking, Redmine for project management, and Excel for everything in between.
The bigger O2 Web grew, the bigger and more high-profile their projects and clients became. But, as the projects grew in scope and number, the frustrations became more visible. How did they move past these challenges? We caught up with Charles to hear his view.
Project Progress vs. Budget
When we asked him what the biggest problem was, Charles didn't miss a beat:
"It's really hard to forecast an IT project. It's not linear," says Charles, "What you think will happen is rarely what actually happens."
When it came to tracking actual project progress against budget spent, Charles' team was often stuck relying on guesswork.
Where we were really struggling was seeing how the overall advancement of the project compared against the budget. We had no way of separating the work that had been done against the budget that had been spent.

So, for instance, if 50% of the budget had been spent, we had to assume that the work was 50% done. What we needed was a tool that could help us understand the real state of the project. For example, if the budget is 60% spent but the work is only 40% finished."
This lack of visibility into real project progress made Charles' team feel sometimes like they were operating in the dark. This was irritating enough for the project teams in their day-to-day operations. But it also led to some uncomfortable conversations with customers, who reasonably expected timely and accurate updates on their project: "Our customers would request an update, 'Where are you in the project, and where are you going?' But we had so many task lists in Excel, Redmine, all over the place, that when they asked, we could not answer."
"We Needed One Platform for Everything"
Not only were O2 Web's disparate tools unable to produce the data that Charles' team really needed. They were actually generating mistakes. Inaccurate, duplicated information across platforms led to error and confusion. Often numbers were completely different depending on what platform the team was working from.
We had no central place to get all our information from. We would put a certain rate on a contract, but then sometimes billing would have another rate on their system. We needed one platform for everything, instead of lots of different platforms where the numbers just didn't match."
Retainers and repeat business are such a vital source of revenue for agencies that it's just not worth the risk of alienating customers with patchy communication and inaccurate information. O2 Web decided that enough was enough.
Finding The Right Tool for the Job
But when Charles began his search for the right platform, he found that few tools on the market actually offered what his company needed. "There are a lot of products out there focused on product development businesses," he reflected. These products were not suited to the projects that O2 Web was working on.
As an e-commerce business, Charles states, neither a fully waterfall methodology nor a completely agile management style suits their projects. In order to deliver to their customers' expectations, they find themselves taking a more hybrid approach. "How we work really occupies the middle," he says, "Because full agility is hard with the types of projects we're delivering. E-commerce customers have some set expectations; there's ground that needs to be covered in order to have a full e-commerce experience. It doesn't always work to go fully agile."
Whatever platform that O2 Web chose, it would need to be a platform that could be as flexible and responsive as they were, without confining them to one style of project management. And the big-name tools just weren't offering what they needed.
We looked around and considered a few tools, including JIRA. But we felt like they were more geared towards businesses that are fully agile all the time. That's not how we work, as we are often working on the kinds of projects where you have a fixed budget, limitations, deadlines."
Let down by the old guard of project management platforms, they cast their net wider. And it was at this point that, by chance, Charles came across Forecast.
My first impression was that I loved how the UI was designed compared to other platforms. That was a great strength. And I could feel straight away that Forecast really understood what goes into managing a good project. The vision was there."
But the moment he saw how Forecast was able to track the progression of work independently from budget spent, Charles realized that Forecast would be able to solve O2 Web's main project management struggle: "We saw that we would be able to measure the progress of the project accurately, separating budget from work."
After sifting through platforms that just hadn't been built with the needs of a semi-agile project-based business in mind, this was a turning point. O2 Web saw that it was possible to have a platform that was flexible enough to work for their agency, while giving enough structure and a centralized 'source of truth' project figures and financials.
Managing a Large Project Portfolio
O2 Web maintains a hefty portfolio of projects which, in turn, means that they are generating a substantial amount of project data. After migrating to Forecast, Charles began to see the benefits of a system that could manage that data intelligently.
We could see within the first few weeks of a project if it was not going well, which means you are able to step in and address it there and then. It's much better than getting to the end of the project and only then trying to understand what went wrong."
Insights can translate to learnings and best practices. But it's only possible to gain insights into processes when you have a manageable way of tracking and understanding the data. "Sometimes our Project Managers will have five or ten projects to manage. They don't have time to check every little detail," says Charles. But Forecast was key in empowering O2 Web's Project Managers to do more with the data. "It gives them easy access to meaningful data that really helps them plan for the next weeks and months."
Cutting Back Non-Billable Time
In an agency like O2 Web, every hour snatched back from non-billable administrative tasks creates an opportunity to take on more revenue-generating work. With this in mind, Charles recognized that AI and automation represented an untapped opportunity for his business. "We were looking for as much automation as possible," he says, "As we want our staff to be able to spend as much of their time creating value for customers, and not just managing tasks or filling in timesheets."
By creating bandwidth for additional billable hours, Forecast was aligned on all fronts with O2 Web's ambitions to keep growing its client base and revenue.
Enabling Remote Work Best Practices
When the pandemic hit, e-commerce needs exploded. Online shopping became the default even for consumers who had previously preferred in-person retail experiences. Agencies in the sector had to quickly transition their workforce into effective remote workers, so they could operate efficiently during this vital time. By helping people keep on track, with a clear understanding of priorities and KPIs, Charles found that Forecast was an essential piece of this puzzle.
With people working remotely, having a really clear vision of project scope helps us see where people are being productive, and where there are problems. It helps us understand where our people are spending the most time, and how we can make them more efficient."
As a company that takes employee happiness so seriously (and even builds wellbeing check-ins into their sprint schedule), Charles is pleased that the transition to remote working has gone so well for O2 Web. What evolved out of necessity is now part of their day-to-day. "Flexibility is going to remain the watchword," he says, "Pandemic or not." By having robust processes in place to manage remote working effectively, O2 Web is able to offer their people a working life that works for them.
A Platform and a Partnership
As the world of e-commerce continues to evolve at pace, developing best-in-class solutions for clients means constantly iterating and embracing the new. In Forecast's role as a trusted partner of O2 Web, we're delighted that they chose our platform to be part of their story as a modern, thriving agency. We're equally excited to grow with them into the future.
To sum up Forecast in one sentence," says Charles, "I would say: Forecast is project management that understands business; it's the ideal tool for how agencies work."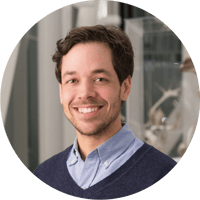 Charles Guimont
CEO and Founder