Everything You Need to Know Before Signing a Retainer Agreement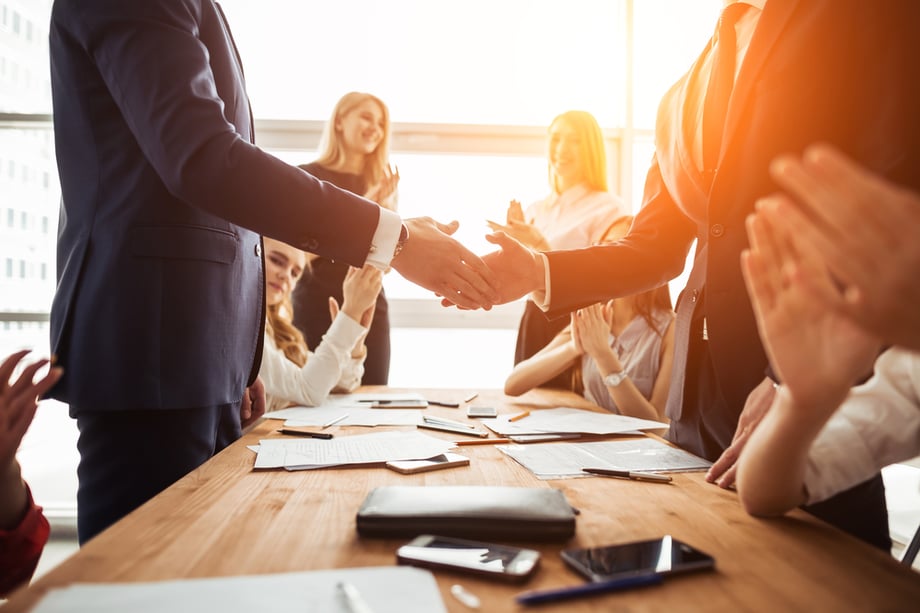 Do you agree that, more often than not, running projects in a consultancy business can feel a little bit shaky in terms of revenue and profit? "One month, your schedule is booked full of project work. You know the client you're working with, what you're doing for them, and when your next cheque is coming in. The next month, you're scrambling," recalls Michael Zipursky from Consulting Success. Luckily, you can break out of this vicious cycle switching to a new way to manage ongoing projects and tasks – retainers.
Looking for even more in-depth information? Download our ebook Everything You Need to Know About Retainer Agreements.
What is a retainer agreement?
A retainer agreement is a long-term work-for-hire contract between a company and a client that retains ongoing services from you (as a consulting business) and provides you with a stable amount of payments. It's different from other pricing models in a way that the client or customer pays in advance for professional work to be determined later.
Retainers got especially popular in the legal field, where clients would retain attorney's services in case they need legal help. How exactly does it work? In exchange for a regular monthly retainer fee, the attorney agrees to provide a set number of hours of service. If you apply the same logic to your consultancy firm, involved in a regular retainer agreement, you will start receiving stable cash flows. Sounds fantastic and promising, doesn't it?
The benefits of retainer agreements
Retainer agreements are becoming more popular as service industries seek more income stability and want to improve relationships with their clients. Among all pricing models, this is a wise choice for consultancies too, given the benefits retainer agreements bring to the company in contrast to one-off, fixed-price projects.
Working in retainers proves to be favorable for both consultancies and their clients. Being paid on a continuous basis, you can focus completely on your clients' needs and issues and deliver high-quality work, rather than spend an unpredictable amount of time looking for new clients that can pay you this month.
In turn, your clients can rest assured knowing that you have a dedicated amount of hours, during which you offer your services, and you're available. Most of the time, retainer agreements can streamline work processes and result in profits for them and you.
But wait, there are actually more benefits to expect from retainer agreements. By cooperating on a retainer basis, you'll most likely
Create a stable consistent income
Reduce time to sell your services
Improve relationships with the clients
Be able to predict the cashflow
For your consultants, a retainer would mean that they have a dedicated chunk of time to spend on the work planned for each client every month. For your clients, it would mean they have experts to refer to at any point they are in need of particular services. For you, as the owner, finance manager, or operations director of a consultancy business, retainers will build a bridge between you and your client, where consultants can easily walk without obstacles when the need is there. In fact, you'll be able to position yourself as a long-term partner, rather than a one-off producer.
Of course, this concept of retainers has the potential to work in any company that manages recurring projects and operations, but it's especially widespread among agencies.
"Most of the agencies that are in our Agency Partnership Program use retainer agreements with their clients, it just works best for them. Retainers make it much easier for them to estimate and maintain cash flows. It takes some of the stress out of them to chase new clients every month too." — Arsalan Sajid, Agency Partnership Program Manager at Cloudways.
Now, when you've learned about the benefits of general retainer agreements, here are some types of retainers you might want to consider applying for your consulting business.
Continue reading: How to Introduce Retainer Pricing
Types of retainer agreements
As a rule, having a consulting retainer, you're supposed to bill your client every month as you go. However, the decision how you'll cooperate further depends on how skilled you are, how long you've worked with a specific client, and your relationships in general. There are two types of retainers a consultancy business can benefit from, either for numbers of hours worked, or for access to your expertise.
Pay-for-work retainers
Using pay-for-work retainers, companies intend to receive ongoing payment on a monthly basis from their clients. This is a basic type of retainer agreement that speaks for itself and is a go-to for consultancies, starting their relationships with clients or slightly underway. Your consultants essentially get paid for the hours of work they are doing, which isn't much different from a contract or project. The only difference is that they're in a loop to deliver services continually for the client.
Pay-for-access retainers
More advanced consultants, however, may prefer to be paid for making their expertise and knowledge become accessible on a continuous basis. Unlike the model described above, pay-for-access retainers don't anticipate the trade between hours and dollars. It's rather retaining you on an ongoing basis when the client's trust in the value of services you provide is exceptional. Meaning their belief in you is so strong that they'd rather retain your accessibility than say goodbye.
Evidently, pay-for-access retainers would mostly suit consultants that proved to have good relationships with their clients. Good enough for clients to trust you, so whenever the need for your services occurs, they'll pay you for value.
Consulting retainers are a perk, but it takes an effort to set a client on a retainer, from negotiating an agreement suitable for both sides to implementing a retainer-based payment model into your project management system. Committing to what has been negotiated in the beginning is another problem.
Let's first look at how to talk the client into a consultant retainer agreement and learn some tricks.
Manage retainer periods with Forecast's Retainers.
How to negotiate a retainer agreement
Consulting retainers are a perk, but it takes an effort to set a client on a retainer, from negotiating an agreement suitable for both sides to implementing a retainer-based payment model into your project management system. Committing to what has been negotiated in the beginning is another problem. Let's first look at how to talk the client into a consultant retainer agreement and learn some tricks.
Prove your value
As a rule, retainer agreements are signed with the focus on your most important clients. It may take years to develop meaningful relationships and a reputation of a well-rounded professional who delivers value and impactful results. However, once you've made a good name for yourself with a few clients and find yourself doing more work again and again, it's time to use the opportunity for a well-deserved retainer discussion.
Retainers also stand to reason when the expertise you're bringing to the table is invaluable. That is to say, give the negotiation a spin when you notice that your clients have too many tasks for the available resources to handle, which makes them refer to you for help.
Offer a retainer discount
While some clients might prefer to sign a retainer agreement with you to secure your services, some will be quite skeptical to pre-pay before seeing the results, especially if your skills aren't in high demand.
According to Dan Lok, a millionaire entrepreneur, speaker, and consultant, there are common objections to retainer fees. Your job is to figure out what's your client's main concern - is it value, money, results, etc.?
Let's say that the client decides to go along with a $1,000/month retainer. What happens next is that they start thinking, "Well, that's $100 an hour. $1000 divided by 10 hours is $100. Wouldn't it be better for me to pay you $100 an hour when I need a consultant of yours?"
If that's the case, many consultancies resort to offering discounts. A cutback may prevent your clients from re-doing the math and influence their decision-making process. In fact, in some cases retainers are well worth a tradeoff, as you don't need to spend plenty of time (or even money) marketing yourself.
On the other side, as suggested by Dan Lok, "When the client starts thinking about the value they'll be getting, the money they're spending suddenly starts to matter less."
If it's about the money, do not offer them a discount. Some clients might mistakenly assume that signing a retainer agreement comes with a discount on your services. As a skilled consultant or contractor, however, you should never offer a discount. You can offer a special package of different services, but don't use the word 'discount.' Offering a discount will only cheapen the perceived value of what you are offering.


Pitch your retainer services
With a discount or without one, this is your chance to shine bright and articulate the benefits and value you'll be bringing to the organization. Specifically, discuss what you'll be offering to the client each month, set monthly deliverables, and decide how much transparency you want to add to the agreement. Even if you've done some good job for the client and delivered on promise, you still need to pitch your services and create a winning proposal with the client's goals and challenges prioritized.


Aim for a time-bound retainer
Experience shows that retainers work best when they last over a longer period, such as 12 months and more. This gives you the chance to determine what's valued most by the client, align expectations, and define what true success means for everyone. Additionally, you may benefit from highlighting milestones you'll work to in your retainer agreement, so you can break them down to specific deliverables and further track progress easily.
If the client is still hesitant, because they haven't seen the results of your work before, a paid trial period can be considered before signing a professional service agreement.
No doubt, negotiating your way through, you'll need a specific retainer agreement contract.
You can find a retainer agreement sample here.
Managing work under retainers
Considering many benefits, any service-based industry - IT consultancies, digital agencies, etc. - at some point might decide to adopt retainer agreements with their clients. It may seem that all the obstacles are behind, but a challenge that appears thereafter is to keep retained clients happy.
Outline the scope of work
We continue seeing many consultants who are skeptical towards retainers. Generally, there are many what-if questions involved, like: What if the client wants me to work more hours? How do I manage retainer projects without experiencing any difficulties?
Right you are and we see where your concerns are coming from. Retainers can be dangerous to a company if they aren't managed properly or you are not tracking work very accurately. To know if you're overdelivering, it's important to be as clear as possible about the work you do under the retainer. Only then will you be able to see if you're crossing the perimeters of the agreed scope or not.
Chances are you'll be asked to deliver something you never agreed to. Assuming change will happen, use your retainer agreement to set the boundaries and limit requests outside of your initial statement, at the same time specifying the cost of additional work.
Listen to your experience to predict what can come out, and then think and develop possible scenarios on how you'll respond to change. Everything that spins out of control and goes beyond the scope shouldn't be unnoticed cost-wise. Don't be afraid to go into the details. Get the retainer contract to work for you by defining clearly what is and what isn't included in the retainer.
Read more: 3 Agency Must-Haves for Project Management Software
Tracking time
When the retainer agreement is signed and your team is supposed to work within the retainer, time tracking is a must to ensure that you're not over-servicing your clients. Regardless of your role, be it an executive, a manager, or a regular team member, knowing where your time goes is paramount. It will help you keep a healthy workflow, stay organized, and eventually get the accumulated insights you weren't aware of before.
Forecast for agency and consulting retainers
To solve the problem of scoping and time tracking on retainer projects, we've added another module to our AI-powered project management platform. Forecast has become the first in a class of its own to create management, tracking, and reporting opportunities for companies that want to break out of the feast-or-famine cycle by setting their clients on retainers. After the release of Retainers, we've started to get feedback immediately:
The main benefit of using Retainers in Forecast is that we don't have to spend a lot of time on manual processes trying to get a project management tool to fit in the way that we do business. – Rasmus Thomsen, Kvantum. Read the entire success story here.


You can feel the same way. Take a look at this holistic overview of a retainer project:
Let's assume that you've just got a new retainer project, but you have a vague idea of how to manage it from the point of signing an agreement. Starting a free trial in Forecast that lasts for 14 days, you can create a new project. As your first step, all you need to do is to specify the type of the project budget – Retainer in our case, and fill in the details that define how you prefer to work. After that, you can invite your team members, assign them to the project you've just created, and scope it out with a task list. Voila!
When creating tasks, Forecast's AI will help you with accurate estimations. Try our auto scheduling feature that allocates resources to tasks automatically. When you're good to start working and the team begins to register time on the tasks, you'll get the following view, jumping to Periods, where you can see your retainer agreement in full swing.
Forecast's Retainers have been developed with flexibility in mind, so if there's a need to subtract costs from one Period to another, or roll over the hours to the next Period(s), you can easily do so. A cherry on top you can give to your clients is showing them you have experience in managing retainer agreement projects and make sure no workload conflicts appear underway. Forecast is built to automate retainer management process from quote to invoice and reduce the time you or your project managers spend on manual tasks. Read the full overview of Retainers here.
Subscribe to the Forecast Newsletter
Get a monthly roundup of productivity tips & hacks delivered straight to your inbox