Our next guest deserves special attention. You may not have heard about Energy Lab before, but it's a well-being agency that stands behind helping thousands of people maintain a healthy lifestyle through and through.
In addition to offering individual testing, coaching, and guidance to athletes, Energy Lab provides corporate wellbeing services. Guiding companies to work towards a sustainable health policy for their employees, they help create and implement health plans, including online and offline activations, workshops, keynotes, and sports events. During the pandemic, Energy Lab helped 200,000 employees to keep active.
But that's not all. To support their mission, Energy Lab builds online platforms such as Keepmoving, and apps such as MyTrace, Start 2 Run, Hardlopen, and Yoga with Evy. With a team of 50+ people, the number of projects and services Energy Lab runs on a regular basis is staggering.
Managing 35 projects at a time
In large part, the success of their programs today is down to Stef Ceuppens, Business Lead of Corporate Wellbeing Platforms at Energy Lab, and the brains behind standardizing their project management processes. We talked to Stef to understand how he gets his head around so many projects (a whopping 35 projects at a time), what he attributes this success to, and finally, why they chose Forecast to keep it all running.
It wasn't always like this at Energy Lab. "We started as a pure physical well-being agency, mainly just making sure that people start and keep moving, and that they can receive all the health benefits," explains Stef. "Right now, we're the leading well-being agency in Belgium and 80% of our revenue comes from large companies. We make sure people focus on their mental and physical health, holistically. Our ambition is to enable individuals and companies to perform at the best of their abilities."
"Forecast allows us to plot out and structure our entire well-being programs as much as it helps us see their value to the business."
Re-thinking capacity planning & decluttering tools
Ironically, to act on this ambition while being a fast-evolving company, they have to take care of their own people first - knowing their availability and capacity. There's a direct link between resource management and company growth, so the leadership team at Energy Lab started to re-think their capacity planning processes and realized they needed a capacity management module.
That's why they turned to Forecast - to balance the workloads of their employees and plan capacity intelligently. But what they found trying the platform was much more than just resource management. With Forecast, Energy Lab could run their projects from start to finish, replace their disparate tools, and track the actual progress directly in the platform.
"Before Forecast, we were just using Excel for resource management, Monday for to-do management, and Toggl for registering time and invoicing. We had a lot of projects but no standardized approach, and you always need a tool to make it happen. Because these tools didn't play well enough with each other, our process could hardly be structured, so we realized we had to centralize our projects," he points out.
Energy Lab chose to partner with Forecast to manage the full project lifecycle all in one place.
Future-proofing for scaling the company
Because Energy Lab as a company is so mindful about their clients, they always go beyond the present moment and explore with clients what they want to do for the next year. Having detailed goals for the year and established milestones explains why the Waterfall methodology works so well for the company. Being able to plan into the future with their capacity in mind and quickly duplicate previous projects in Forecast, Stef is able to discern what's feasible.
"With Forecast, we're ready for the future," he says confidently. "Forecast allows us to plot out and structure our entire well-being programs as much as it helps us see their value to the business," Stef elaborates.
Namely, when managing projects and resources in Forecast, Stef recognizes two favorites of his - Budget and Schedule for the entire company. "While the Budget says it all for me on how my project is performing, the Schedule provides a good overview of what the business is doing and how work gets done," explains Stef.
Stef also finds Forecast's new Baseline feature to be extremely helpful for staying on top of their project and business finances:
"Baseline helps us to put our managers at ease, we don't need to go into all the tiny details, but can directly see how profitable a project will be. We always have something to compare our actuals to, which we were previously doing in an extensive Excel sheet. I really like how things are coming together in Forecast."
On a final note, Stef concludes that Forecast helped Energy Lab to get a unique combination of operational and tactical overview. "From a project management point of view, we don't need to put a lot of effort into Forecast. It gives us more breathing space, to think about the things that really matter to us."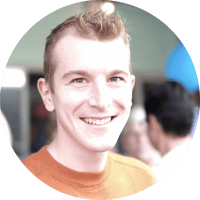 Stef Ceuppens
Corporate Wellbeing Consultant