NEXUS United is a business unit at Valantic, Germany, responsible for the development of technically complex IT projects with a focus on digital commerce. The range of services of the NEXUS United is primarily aimed at midsize and family businesses that rely on technology-based and highly individualized business models.
Often times, businesses refer to NEXUS United for a completely new digital touch to their online shops, including further development, robotic process transformation, and other equally important services. Around 125 experts from the areas of backend development, frontend development, digital transformation, creative services, and digital marketing work in dedicated teams that are allocated to sophisticated eCommerce projects of all kinds.
Founded in 1998, they can now look back on over 500 successfully implemented projects. The growing portfolio of projects have generated a need for a platform that allows for a better perspective on budget and easy track of operations in order to make critical business decisions. As the company with a technical mindset, they'd managed work primarily in Jira. A system was well-esteemed, but it was lacking important reporting elements. Forecast stood out among other solutions, such as Wrike and HelloHQ, for its two-way integration capabilities with Jira and transparency Forecast provides across teams, projects, and operations overall.
Hasta la vista spreadsheets, hello Forecast
In order to scale and grow, NEXUS United knew that they needed a solution that would provide visibility into every detail of the projects and company financials. They were very aware that Jira might not work for the entire company. While many developers love the tool and stay loyal to it, it clearly wasn't enough for management. In Forecast, they found a solution that catered for collaboration across departments.
To learn more about why NEXUS United has chosen Forecast, we talked to Jurij Pfeiffer, Head of Development with a background in software engineering for larger global companies, such as Siemens and Saatchi. Joining the company, Jurij first turned to spreadsheets to organize the development work and try to get an overview of what was going on, but this wasn't a great long-term solution.
"The bigger picture of how the projects progress according to the plan and budget was nowhere to be found in Jira," recalls Jurij. "You can't see where you stand and what part of the project has been delivered either. Trying to fill these patches, we used to resort to spreadsheets, but I knew it would get messy over time."
Resource management was previously done in spreadsheets – one spreadsheet per team. We needed a system that would replace spreadsheets completely and seamlessly integrate with Jira to provide us with transparency and a real-time overview of our developers.
Driven by these obstacles, Jurij was in search for a platform that could help him get one connected real-time view. The list of requirements wasn't long, but the overall goal was two-way sync with Jira in order to keep his teams as productive as possible.
Transparency across the project portfolio
NEXUS United consists of several dedicated teams that work on different projects and register time in Jira. Leaving spreadsheets behind and choosing Forecast, they got a single source of truth with a unified view across all their projects that seamlessly connects with Jira.
Now, the projects are connected and instantly reflected in both platforms. All the work developers do and register in a Jira sprint is instantly reflected in Forecast and visualized in rich digital dashboards you can't find in Jira, such as the Timeline, the Schedule, the Budget, and Reporting. Each perspective has a navigable path so the project manager can drill down to a micro-level if necessary to see the relationships between costs and roles, for example.
NEXUS United management finds the Schedule Project and People view especially helpful to track progress and balance the workload.
Before Forecast, I often needed to ask my team or project managers if things are going according to plan and inquire what the status of the project was. Now I can just look at the platform and get the insights when needed.
Since using Forecast, NEXUS United has started to monitor the financial picture of their projects, so no costs slip through the cracks and miss their attention now.
Creating transparency across project finances, according to Jurij, is one of Forecast's strongest sides.
Tracking essential project KPIs
The right technology was also needed to automate reporting and be able to monitor productivity. In addition to tracking the project against the deadline, NEXUS United prefers one more way to measure the health of the projects, by looking at how much of the staff's time is actually billable. Knowing how many hours a week developers work on their tasks and how they spend their time, compared to what has been planned, Jurij can make critical decisions to raise the percentage of billability.
Aiming to keep the utilization targets high, with Forecast they have the transparency and ability to actually measure it and see if they are reaching the goal. Making sure that nothing is eating into the developers' productivity, NEXUS United doesn't have to compromise on time, value, and budget. If things shift, managers are in the know. The difference between billable and non-billable hours as well as other important numbers are holistically visualized on Forecast's Budget page and in the Financial Portfolio Report Jurij is especially fond of.
Learning the true cost of software projects
Since using Forecast, NEXUS United has started to monitor the financial picture of their projects, so no costs slip through the cracks and miss their attention. Seeing the actual revenue, cost, and profit against what has been planned, they are fully in control of what's happening at the project level. Creating transparency across project finances, according to Jurij, is one of Forecast's strongest sides. Now, management at NEXUS United doesn't have to spend time and effort collecting bits and pieces of project data across spreadsheets. It's all at their fingertips.
Looking at the Financial Portfolio Report, we see how the value from project delivery quantifies, and it's our favorite part. We take a lot more learning out of it now.
Retainer-wise project management
NEXUS United is also in the fast lane of Forecast's customers who benefit from working in Retainers through which long-term relations with clients can be built when running longer projects. "Fixed-price projects usually bring a high level of uncertainty, so we prefer to organize work in Retainers," explains Jurij. "For the project sizes and level of customization we are usually dealing with, a fixed price is more like looking into a crystal ball. Because these projects are less standardized, there are rarely any learning effects to recap. Retainers in Forecast, however, give us the ability to easily track budget spend now or over the year."
The platform also enables NEXUS United to actually see where they are making money and measure what to roll over or subtract at a glance. This is completely opposite to the previous setup before Forecast. Creating projects in Jira and having people work on them, Jurij wasn't able to follow the progress in real-time. Selling a period, the needed insights into profit or loss were hard to get. At this moment, financial data is instantly available.
According to Jurij, when you have limited needs for portfolio-level functionality, Jira is one of the best tools. But if you're on a mission to grow by leaps and bounds as a business without missing the big picture, Forecast is a solution to keep track of your software projects, know their true cost, and learn how to get more out of your operations.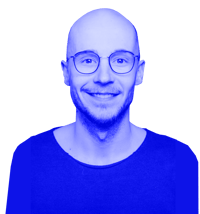 Jurij Pfeiffer
Head of Development