Holition is an innovation studio in the UK that delivers exceptional bespoke solutions for luxury, beauty, and fashion brands, and works with researchers and artists, to understand and strengthen their digital and physical presence. Being a tech agnostic company since the outset and an 'innovation chameleon who seamlessly adapts', Holition hardly has any agencies in the UK that can compete with their unique 'holistic' approach.
Their portfolio is constantly filled with projects for luxury brands, like Louis Vuitton, Burberry, BMW and Rolls Royce, to name a few. But there's one pitfall. With another great project and a hybrid business model like Holition's often comes risk. To avoid the outcome of a very thin line between cost and profit and manage peaks and troughs of resource availability, Holition's leadership team had to reimagine their processes.
We spoke to Matt Nelson, Head of Operations at Holition, to learn more about the company's approach to growing the business and managing risk. It's been three years since Matt started using Forecast to support their strategy, optimize processes, and take in more complex projects.
Wearing many hats
The blend of physical and digital, coupled with bespoke storytelling, is what differentiates Holition from the competition. "We hold ourselves to a very high standard," explains Matt.
"Particularly with COVID, brands are trying to connect with users through storytelling, but not many do it really well. We merge marketing strategy, content creation, and creative software development into one to make sure clients are making the most of all areas rather than creating something that's often unusable and unoriginal."
As a Head of Operations, Matt has to wear many different hats every day. Not only does he oversee projects, he's also responsible for planning, quality control, reporting, facilitation, and team success.
"Besides the actual project management," he points out, "what I also look at in particular is our process of onboarding work, as we go from pitching to scoping, to project planning, to project running, to final deployment and testing, to post-project upkeep."
When Matt started at Holition, there were about 15-20 people in the studio at that time. He describes their work process as "a bit ad hoc," mainly due to the lack of an end-to-end perspective on their projects and a single project mindset. The desire to professionalize Holition's workflow prompted him to rethink their processes, starting with the tool stack they could use to rally everyone around the same goals.



"When I arrived at Holition there were no PMs. We were a much smaller company in terms of personnel. I came in halfway through our first really serious project, which was a mobile app, just to realize we were lacking on execution in terms of pure project management, risk management, quality management, and helping our client make judgement calls in terms of cost versus value."
Despite the challenges, Holition has grown their services, doubled headcount, and become more professional. Matt pulled the curtain back for us on what went into reimagining their processes and strengthening their core business operations.
Exploring the options
First brought in to help their software developers, the Management Team was quickly convinced that the processes he was about to implement should apply company-wide. On his journey to improving professionalism and business delivery, Matt tried different tools.
He explains, "We previously used JIRA and Confluence, and I found that the adoption rate was very poor, and it wasn't usable for non-development teams. It didn't offer many features we were seeking out, which became invaluable for our business in terms of holidays, expense management, high-level planning, roadmap making, timeline planning, resource management, and budgeting."
After a year and a half of using Jira, Matt decided to scrap it and use something completely different. He thought they should try Trello because it had a lot of cross-platform integrations and, in his opinion, it was "dead simple to use."
Even though the adoption rate increased dramatically, Matt found that his time was taken up with mostly managing how different teams used Trello, as it was too open-ended. He tried to show and prove how Trello could be implemented for each specific project but because it didn't cater to the complexities that they needed, Matt was stuck in the middle of two extremes.
"Trello didn't have the different levels of insights that JIRA offered like user stories and cross-project management. In addition, we were missing a timeline view of all of our projects and product roadmap," says Matt.

Forecast helps us manage risk better on the project level and company-wide level.

Finding Forecast
As his search continued, Matt was very methodical and diligent in his approach. This time, it just had to work out. Three requirements shaped Matt's decision-making process:
Customizability.
Ease of use.
A comprehensive overview.
Firstly, the platform had to be adaptable to Holition's way of working.

I was looking for malleable enough software to help a hybrid company maintain flexibility.
Managers needed to be able to see the big picture by implementing fewer platforms. Lastly, to have a high adoption rate across the company, Matt wanted the tool to be user-friendly, with visually appealing UI and varying permissions levels for team members. So Matt started from 50 and narrowed the list down to five. Although those three requirements influenced his decision-making process, Matt was also evaluating how mature the company was, if they had an active blog, cost efficiency, and friendly and responsive customer service.
Matt explains, "I made a gigantic spreadsheet, and I matched what my requirements were up with all the prospecting tools. With Yes, No, Maybe, or Integration required with X tool, I then matched up the different kinds of software, and I found the one that fit the best with our needs and Forecast fulfilled 85% of my needs."
"Right off the bat, it's not too complex to use in terms of core functionality. People can generally understand it. Forecast doesn't take long to set up and manage like Jira, or even Trello, which is too open-ended. I appreciate the fact that everything is in one place and I don't have to switch from one platform to another. One of the things that also stood out for me about Forecast was how you welcomed feedback and I could feed into the roadmap."
Reaping the benefits
Having used Forecast for three years now, Matt points out that Holition has become stronger in a sense that there are processes in place helping teams collaborate and execute on much more complex ideas from start to finish.
"The mentality about the execution of a complex piece of work has changed since using Forecast,"he explains. "We've been able to facilitate communication internally at a project and portfolio level. Forecast has helped us make huge strides forward in terms of communication. The value is intangible, because getting people to collaborate and work to the same goal is always the basis of success. It has helped our efficiency tremendously."



Having everything connected in one place, Matt can make informed decisions about scaling the company. Because he now knows who's available to work on new projects, he calls Forecast's scheduling functionality a 'necessity.' "In that respect, I can look at Forecast's People and Projects screen and plan allocations according to everyone's current and future workload," says Matt.
"Had we chosen some other software, it would be more complicated and introduce usability problems."
Besides People and Projects, Matt gathers insights from Baseline, Scoping, and Budget. "Baseline is important for our producers and product owners to monitor budget spend, across milestones and roles. On a company level, it's much more about helping us measure and compare projects, to see if there are any trends, like are we consistently going over budget?"
"Before, it would take a lot of digging to know how much time we have left on the project. 'With Forecast, I can highlight project status, blockers, project budget vs actual, all of which means we can measure performance more accurately as a business. It helps facilitate conversations and keeps us all accountable. We actually live by the mantra 'If it's not in Forecast, it doesn't exist.'"
Baseline comes in really handy for Matt's team as most of Holition's projects are fixed price. He can plan backward from it without losing visibility into what was initially planned and sold. "It's something to measure against constantly," explains Matt.

With Baseline, Holition is able to monitor budget spend in real time.
Matt's role also requires him to look at Forecast's Project Portfolio Report quite heavily, as it accumulates financial insights across all their projects. "There are simple numbers indicating if we're likely to go over for that specific role or not."
Matt mentions that with Forecast, he knows for a fact what the impact of assigning new tasks to someone is, or changing the timeline, or taking a new project.
"Investing in Forecast is a no-brainer for us. It's easier for us to spot inefficiencies before the scope and budget are way overboard and show people where we're at."
On a final note, Matt is now thinking about how he can make things more reusable by duplicating projects and creating various project templates in Forecast. An opponent of creating administrative work for no reason, Matt is doing everything in his power to make teams as efficient as possible and provide distinguishable quality for every project.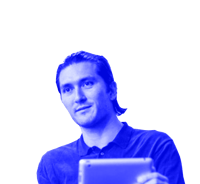 Matt Nelson
Head of Operations