Tenbu is a Brazilian IT consulting company that supports its customers on their Data Driven Journey, specializing in analytics, big data, machine learning, and data science solutions. To go toe-to-toe with the industry and everyone revolving in it, Tenbu has embraced a massive mindset change. After all, consulting is now much more agile than it used to be. It is no longer just about delivering the scope you get on day one of the project. Instead, IT consulting is more about always being able to adapt, mitigate risks, and think outside the box to deliver maximum value to the client.
What sets Tenbu apart from other consulting companies is their excellent in-house team that has deep knowledge of analytics and can work with just about every major analytics tool out there. When delivering a new solution to the client, the team is open to working with every cloud, every player, and every solution available today — whatever helps them stay ahead of the curve. But that's not all.
The key to Tenbu's success lies in their approach to project and communication management where they try to meet the clients' exact expectations with their products and services. Maintaining efficient communication, keeping the client in the loop regarding project progress, and being transparent about the way things are going — this is how you make communication work for you. But how do you do the same with the minefield that is project management? Two words — technology and experience.
At the end of 2018, Tenbu set their spreadsheets aside and gradually migrated to Forecast. Since then, the company witnessed a considerable change in their day-to-day workflow management, volume of manual work, project success rate, and overall project outputs. We talked to Bruno Afonso, Head of Customer Success at Tenbu, to learn more about their journey and the way Forecast has contributed to their success.
Identifying pain points
In 2018, there was one distinct problem eating away at Tenbu's productivity — no unified platform to run all project operations. "Back in the day, we were using Excel to manage and follow projects; and to register hours we were using an internally-built system," says Bruno. "As for our other processes, our budgeting and scheduling were also Excel-born, which, as you might have guessed, involved an excessive amount of manual work and regular updates, which can be pretty time-consuming."
Although Tenbu's team found their way around Excel and spreadsheets, they wanted to explore more advanced tools that would increase their utilization rate, cut manual work, and bring more transparency to the overall project management process.
"What I didn't like was that the team didn't have access to all the relevant project data. Instead, everything was centralized around me, the project manager. This means that every time I had to send all the other managers relevant information on things like project changes or budgeting, and manually update our spreadsheets every week or every 10 days. We were basically working in silos, with no single place to put all things together and get a clear overview of our projects. And this was, of course, impacting our project success rate."
Setting out to reach new productivity levels
The Tenbu team combed through several tools when upgrading their management processes, but Forecast came out on top. "We chose Forecast because it could cater to almost all of our needs, offering various features we were looking for at that moment; and the price was competitive too."
"Our project data used to be scattered across different platforms, but once we moved our projects to Forecast and centralized all the information, it became much easier to manage all our processes. Now all the stakeholders can get easy access to relevant project data. And, most importantly, all of that data is always up-to-date," explains Bruno.
With the migration and onboarding phases out of the way, the Tenbu team got the hang of the tool, improved their day-to-day workflow, and even picked a few features they prefer most of all. Bruno, for instance, started using Forecast for most of his core tasks: "When we start a project, I like to plan the whole thing. So I use scoping for the main project phases like development, certification, production, requirements, etc. And with scoping, I get to plan our to-dos and I can define hours for each task, which is also convenient because every team member can register their time later on so the whole idea of time-tracking is very handy. "
And it's not just the management team — everyone at Tenbu upgraded their performance and outputs by integrating AI-driven project management technology into their productivity agenda.
"At the moment, Forecast is our principal solution for following projects. And by 'projects' I mean both, our clients' projects as well as our internal projects. Our team uses the tool to follow their hours and their workflow, which means they have a perfect grasp of what they are going to do today, tomorrow, or next week. As General Manager, I use Forecast to follow the whole Tenbu portfolio. I get all the information from Forecast and use it to build and determine my table portfolio, margin, budget, hours, etc., but my personal favorite is definitely the budgeting feature."
Not long ago, Forecast released a new feature, their Utilization Report. According to Tenbu's team, they are particularly impressed with the report because it gives them visibility into their utilization rate and makes it easy to see when they need to hire extra hands or if they have enough support to keep running with the existing resources.
Improving profitability while cutting manual work by 30%
IT consulting is a competitive market, but at Tenbu, they have great aspirations driving their business success. Having Forecast as their main management tool for over two years now, Tenbu has seen exponential growth and tangible improvements in their overall performance and project success rates.
"There were a set of things that we improved," says Bruno, "For starters, Forecast gave us more visibility into our projects. Compared to 2019, we considerably increased our margin. Among other things Forecast helps us accomplish, is easy budget management. We can know early on if some project is going to be unsuccessful and take action right away. Back in the day, I noticed the negative trend only when it was too late to fix it. But the story is very different today. For instance, last year, a few projects were unprofitable. This year, we don't have any unprofitable projects at all. Hopefully, it will remain like this in future too. So yes, Forecast has been very helpful with our project finances."
Tenbu's impressive achievements don't end there — they also managed to automate a lot of the processes that they were wasting time on. As Bruno pointed out, "Although we still do some admin things manually, it's not even close to how hard it used to be. Forecast saves us about 30% of manual work." Indeed, for too long project managers have been saying goodbye to their high-productivity hours by flushing those down the manual work drain. But the good news is that the age of that monkey job where you do lots of repetitive and unimportant tasks manually is coming to an end. And Tenbu here is proving it.
So, what's the high-level impact of tools like Forecast on IT consultancy and the companies pushing the industry forward? As Bruno said, "It helps us drive more value to our clients, bring more visibility and predictions on our numbers and financials. And, of course, more task visibility for the team." We're excited to see Forecast making such a meaningful contribution and we will be sure to follow Tenbu's progress to see what helps them break new ground in future.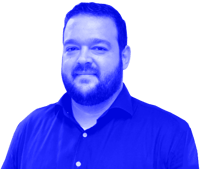 Bruno Afonso
Head of Customer Success