How it works
When enabling the integration, you activate the accounting part of e-conomic and pass financial data from your projects in Forecast to e-conomic. Thereby, you automatically generate invoices that are ready to be sent.
The invoices are created in Forecast either based on time and material, a fixed price, a deposit, or a manually created invoice, where you add the needed details. When the invoice is generated, you can easily send it to e-conomic and after a few seconds, you will see it at your dashboard. Until you've posted the invoice, it will appear in Forecast as a draft and be reflected in Forecast as paid immediately after being paid. Whether it's just part of the invoice or the entire amount the client has paid, you can see the number reflected in Forecast.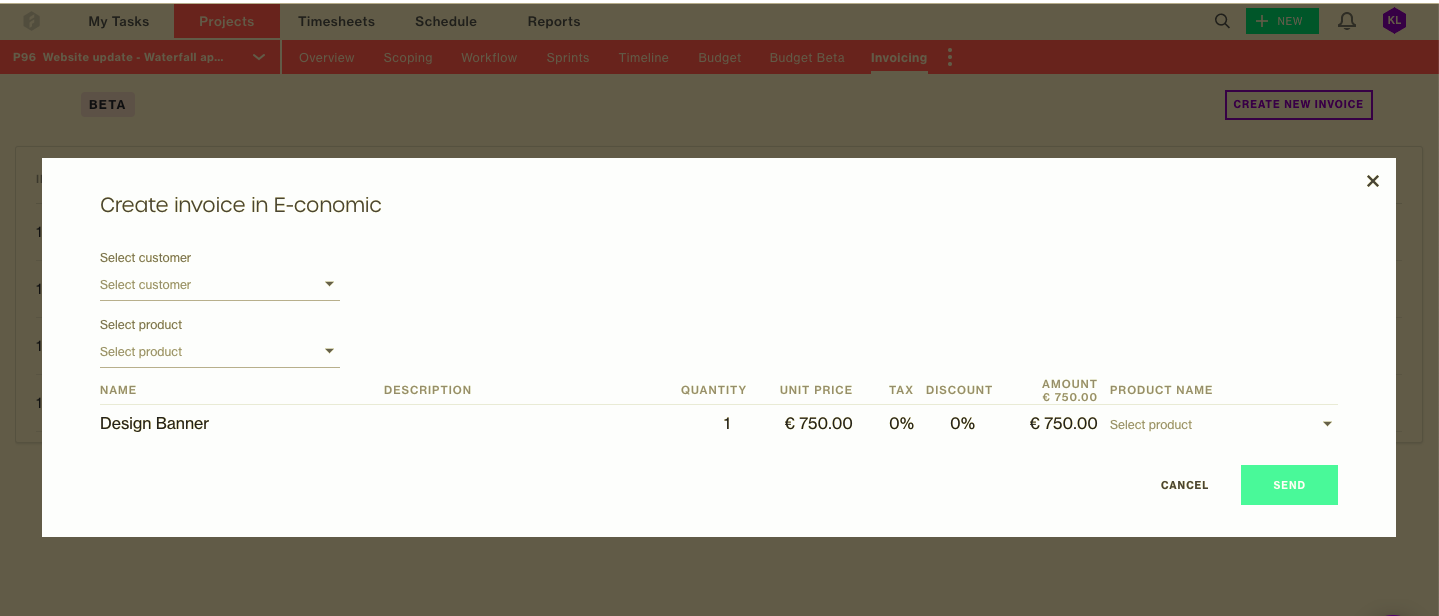 Easily create an invoice and sync it with your e-conomic account. Customers and products are synced and added to your invoices in Forecast
The project Budget and Financial Portfolio Report will furthermore show the amount that has been invoiced for that specific project and what has been paid. Follow the cash flow in the two systems and keep an eye out for missing payments and thereby ensuring you get paid for what you do.
Admins can easily enable the integration via the admin panel. As soon as the integration is set up, project managers can start creating invoices and sending them to e-conomic, and that makes it easier for the accounting department to post and send invoices directly to the client.

See what has been invoiced and paid in e-conomic in order to follow the progression. Easily go to the specific invoice by clicking on the e-conomic link.
Learn more at e-conomic Apps & Integration (the content is in Danish only)
Connecting two systems
The combo of Forecast and e-conomic allows you to easily tie project proposals and invoices together in one system, have users register time in both platforms and can be used for creating invoices either in Forecast or e-conomic. Every data piece is connected, enabling you to have departments work as they prefer. The project module must be manually activated via the e-conomic "Apps & Integration" page.
When integrating the project module with Forecast, you can select projects you want to link and synchronize time and project proposals. Via e-conomic you can therefore send proposals that are closely related and more precise thanks to the AI-powered possibilities in Forecast.
It's important to note that when you sync time entries from e-conomic with Forecast, these will be automatically locked to avoid conflicting data.
In order to get the Forecast & e-conomic integration to work, you can either choose to have the accounting module and/or the project module. Both parts work with Forecast and are not dependent on each other.