Tie projects with your files in Google Drive
Integrating Forecast & Google Drive makes it easier to collaborate and share files with your fellow team members without leaving Forecast. It ensures that your files are always easy to find in the same place without having to continuously upload and duplicate.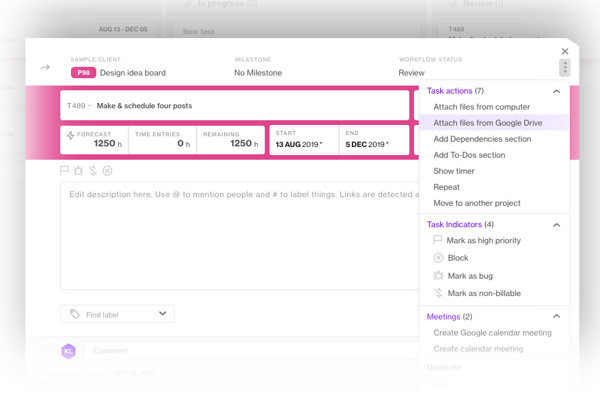 Attach files to tasks by just clicking on the task card
Once enabled, you can easily link a file to a specific task or create folders in Forecast to keep the needed files organized and available. The integration allows you to create a folder structure and store as much as you like. By linking the files from Drive to Forecast, you can keep your iterations in Google Drive and the files in Forecast will always be up to date.
Ensure you have the recent content at your fingertips by accessing folders directly in Forecast and uploading from Google Drive.
Bonus tip: How to attach files from Google Drive
When the Admin has enabled the integration, team members can add files to tasks or projects. You can either add a file directly from your computer or add a link from your Google Drive. With a direct link to the file, you can keep your work iterations in Google Drive, and the file in Forecast will always be up-to-date. When activated, you'll see a new button in the Files tab on tasks and a similar button in the Files tab on a project.