The Complete Guide to Professional Services Automation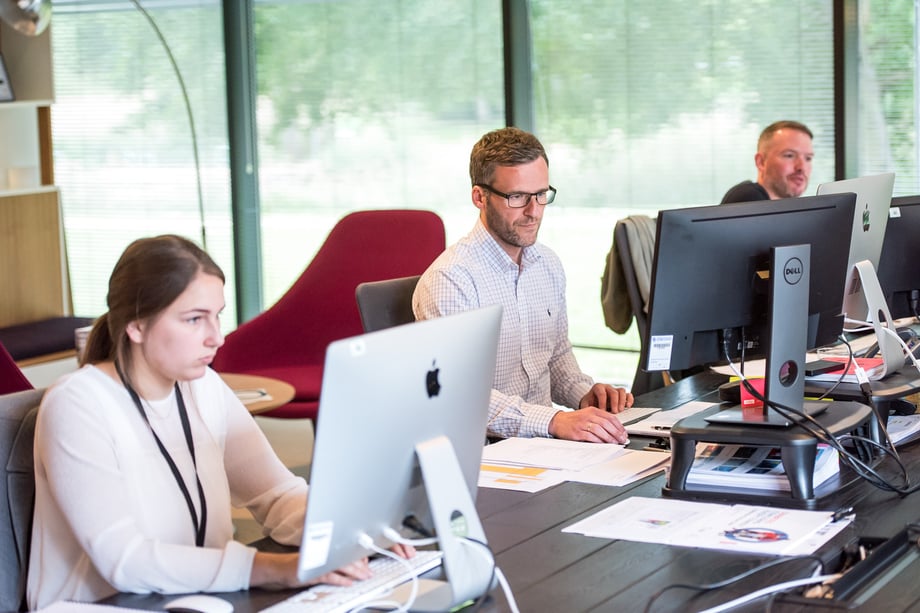 To be the best in your industry in 2023, you need robust insights to inform your business decisions, meet customer demand, and drive growth. That means using intelligent technology to optimize processes and deliver more successful engagements.
No matter what services your business provides, you have a laundry list of activities you must excel at in order to deliver a healthy profit. The only way to achieve this success is to streamline and standardize your complex service offerings while improving performance.
Without the right information at your fingertips, this isn't possible. That's why the answer lies in professional services automation.
In this guide, you'll find out more about:
What Professional Service Automation is
The benefits and downsides of PSA software
How to select the right PSA tool for your business
The best PSA software
The importance of professional services automation
Professional Services Automation (PSA) software is a full-suite platform that serves as the main hub for your business activities. Based on the idea that one solid foundation is better than several separate systems, PSA software seeks to bring all your solutions under one umbrella. This includes project management, resource management, time tracking, finance & billing, business intelligence, collaboration tools, and so on.
The A in PSA stands for 'automation,' a fundamental part of business process management. A good PSA allows you to automate many aspects of your business and get the most out of your data to optimize functions across departments.
What are the benefits of PSA?
Full-scale PSA software comes with a wide array of benefits. Exactly how your business will benefit from using a PSA solution will depend on what your company does, which software you choose to use, and what challenges the company is facing.
PSA software not only gives you the right tools to track KPIs, but it also accumulates insights, helping you allocate resources intelligently to increase profitability and reduce costs. Let's break these benefits down:
Less time spent on administrative tasks. Tasks such as project planning and scheduling, financial reporting, workflow management, and more can be automated
Improved project predictability. Achieved by reviewing learnings from previous and ongoing projects
Higher resource utilization rates. The correct suite of tools can help improve team collaboration and agility. Assign the right people to the right tasks at the right billing rates, spot low resource utilization rates, keep knowledge-sharing in one central location, and help teams stay focused with sprints
Reduced risk of overspending. Your PSA software will highlight where you're overspending, allowing you to plug the budget leaks in advance
Increased project margins. Gathering critical information on which projects and clients contribute most to the profitability of your portfolio helps inform your future decisions. Plus, data on resource distribution and revenue can help you better plan resources for higher project margins
Full data visibility. Data is automatically recorded, systemized, and turned into powerful holistic or granular reports, breaking down silos and providing an overview of vital data across all levels
Enhanced customer satisfaction. Finally, a proper PSA solution supports communication, connecting your customers to your processes in real time, addressing their concerns, and keeping them in the loop

The 2022 Service Performance Insight (SPI) report found that firms that implemented PSA software saw significant benefits, including lower project cancellation rates, improved on-time and on-budget delivery, fewer budget leaks, higher resource utilization rates, and increased profit margins. The research identified a relative 11% (from 68.1% to 75.3%) increase in billable utilization. Plus, 'over 83% of HPP firms use PSA, and nearly two-thirds have it integrated with the core financial management solution.'
Those numbers are pretty hard to argue with.
What are the drawbacks of PSA?
No tool, concept, or practice is perfect. It's unfortunate, but there will always be pros and cons to all aspects of business operations.
Most PSA drawbacks center around implementation and adoption; this is the case for most software. Estimations on the number of failed software implementations range from 50% to 70%, despite the barriers to adoption being lower than ever.
When it comes to PSA software they are designed to complement business processes, which means going through a period of process reengineering. Though it's worth it, it takes time and can incur high costs for the business. This is especially true if a business builds a PSA in-house rather than buying off the shelf.
Plus, more work needs to be done to integrate the 70% of work done in service companies that happens outside the PSA. Teamwork across departments is critical, and client collaboration is even more important in service businesses. In the meantime, this means selecting from the few options that offer collaborative tools or using an external Collaborative Work Management (CWM) to plug gaps and connect teams.
What's the difference between PSA software and project management software?
'Project management' is often used as a catch-all term to describe any business function that takes tasks from open to complete. The reality is more complicated.
In addition to task management, specialist processes are required to plan, execute and monitor work. Good project management tools allow for prioritization through dependencies, time estimates, and resource management, helping project managers oversee project progress and keep stakeholders informed of progress or challenges.
Though similar in many ways, Professional Services Automation differs from project management. It goes the extra mile to provide critical information and key metrics on current projects and the activities that drive your business's profits.
For example, while project management tools focus on tracking resources related to specific projects, a PSA tool will monitor the billable rates of teams across the entire organization and gather the information that can influence profitability.
Profitability is, in large part, driven by resource allocation. But good resource management is about more than ensuring your team is booked and busy; again, PSA apps take things a step further, optimizing workflows, approval processes, and resource allocation with metrics and sometimes even AI.
What industries use PSA software?
The obvious answer is all service-oriented firms. While PSA software was initially designed for traditional service organizations, such as consultants, professional service teams, and lawyers, its application is now much more far-reaching. As a professional services organization can offer any service that requires specialist training, the types of industries that benefit from using PSA software are endless.
Creative agencies, consulting companies, and software businesses are a perfect fit as their goals center around achieving higher utilization rates while reducing non-billable hours. From architects and accountants to design agencies and IT firms, any business that delivers work using a billable framework can use PSA software.
What does PSA software help with?
If you're still weighing up whether you're better off with a PSA solution or project management tool, find out more about what goals PSA software can help you solve.
While PSA software can offer businesses dozens of benefits, as outlined above, a successful solution provides value by helping them achieve three core objectives.
Improving project management and optimizing resources by centralizing key processes
The main draw of PSA solutions is that they support business operations beyond the running of individual projects. From initial contact to payment, a successful PSA solution will centralize all processes, documentation, and information, helping break down silos across departments. All in all, this provides a cohesive experience for customers and allows teams to work together better.
Delivering business outcomes for customers and increasing brand confidence
When teams work together effectively and have access to the correct information at the right time, they can do better work. It's a simple equation, but it can be challenging to execute. The right PSA solution resolves issues around resource management, data collection, and relationship management, reducing the frequency of communication breakdowns and bottlenecks. Teams can deliver more successful projects consistently, creating a better customer engagement experience.
Improving revenue & obtaining visibility over key decisions
The decisions you make can make or break your relationship with customers. The only way to make better decisions is by gathering data — including customer insights, information on resource utilization, and performance metrics — in real time. This increased transparency is possible when you know you can trust your data. A PSA solution offers trust through automatically generated reports.
Selecting the right PSA software for your business
The PSA software marketplace is expected to be valued at USD 1.679 billion by 2026. So, it's no surprise that professional service firms are spoilt for choice when researching software. The next step is to find the right solution for your business.
What to look for
Before jumping into research, it's important to define your must-have and nice-to-have features.
Your organization's goals and your team's challenges will play a large role here. With OKRs and SMART goals, you can outline what you want to achieve and how you'll do it.
However, you'll notice that most software offers similar features. While features like resource management are non-negotiable, other key considerations include the effectiveness of those features, the product's usability, and whether it aligns with your team's needs, experience, and expectations. These qualitative features can all be barriers to adoption and satisfaction amongst your team members.
Here's an easy-to-use checklist of non-negotiable features:
Cloud-based to support scalability, agility, and security.
Project management capabilities to gather all relevant project data, documentation, and information in one place. Includes task management, process workflows, templates, and collaboration tools.
Resource planning and management to improve productivity, ensure resources are assigned to the right projects, and make it easy to manage resources across the organization.
Integrations because no one tool can do everything, and good work is facilitated by information sharing.
Contract management to keep relationships happy and guide opportunities over the line.
Financial management and revenue recognition to reduce friction in recognizing revenue and gain better insights into the business's finance.
Time and expense management to support the creation of more accurate estimations and prevent burn.
Analytics and reporting to learn from what went well and what didn't go well and reduce time collecting data.
In-app communication because collaboration is key.
Customer lifecycle management to keep all relevant information in one place.
Client access to improve client-firm relationships.
At scale, here's what you should look for in professional services automation software to successfully overhaul your processes and gain actionable insights.
Work automation
Good PSA software should introduce automation to every project, helping you save time. Automation can reduce time spent on administrative tasks, providing value at every step of the journey. For project managers, that means less time spent on manually planning and running projects. Finance departments gain access to real-time financial data they can trust. Automatically generated Kanban and sprint views provide teams with the information they need to do their best work.
Up-to-the-minute project progress
Transparency is key to project success. Transparency means having an overview of the financial status of each project, including revenue, cost, profit, and margin, as well as resource utilization and customer-related insights.
Cohesive project management
PSA software should provide one location to plan, execute, track, and report on projects of any complexity from start to finish. Having a single source of truth is key for businesses with large pipelines, revealing how taking on new opportunities will affect ongoing and planned projects. A good PSA software shouldn't impose limits on what methodologies you can use, such as Waterfall or Agile, and should provide the tools to create Gantt charts and run sprints.
Resource management
Sustainable workflows are achievable only with good resource management tools that support capacity planning and workload management. Identify problems before they escalate, allowing you to adjust workloads and increase productivity.
Team collaboration
It's important that PSA software provides a central hub for teams to complete tasks, share knowledge, and monitor who's working on what. This allows individuals to self-organize and cross tasks off the list with a complete understanding of deadlines and dependencies.
Time management
Accurate progress reports, financial summaries, and client billing rely on timesheet entries. Time tracking is an integral component of any PSA tool, propelling powerful granular and holistic reporting.
Finance & billing capabilities
PSA software should paint a clear picture of where you're earning or burning money, which projects and clients contribute most to the profitability of your portfolio, and the revenue, cost, and profit per role.
Business intelligence
The primary purpose of PSA software is to put data into perspective and provide executives with one real-time view of the whole business, so they can scale. Business intelligence helps teams connect all the dots, hit KPIs, and plan for the future.
Integrations
You will always need to use other tools. Integrations allow information to be passed between the tools in your tech stack. For example, developers can connect to GitHub or Jira, while the finance team can share financial data with Quickbooks to create invoices faster. When tools work together, they become more powerful.
5 top Professional Services Automation tools
Are you clear on why you need PSA software and what features to look out for? Here are five fantastic options to get you started.
Forecast's goal is to help businesses do their best work every time. Doing your best work while driving profits means cutting down time spent on non-billable work such as project planning, resource allocation, and filling timesheets.
Forecast supports efficiency by matching your team members' skills and project needs, increasing resource utilization. Easy-to-use planning tools help you look months into the future, identifying potential bottlenecks and allowing you to make hiring decisions in advance. Plus, using AI-powered assistance, Forecast automatically calculates utilization on a company-wide level, providing insights on under and over-allocation, allowing you to make adjustments.
On the project front, Forecast provides a bird's eye view of all past, present, and future projects across your organization's pipeline. With a clear view of your journey thus far, including delivery data, you can learn from what has worked and failed in the past and plan more successfully for the future.
Reports and dashboards provide up-to-the-minute numbers on what activities drive revenue, what is sinking the ship, and identifies opportunities to capitalize on. Say goodbye to confusing numbers and hello to actionable insights that will drive growth.
Features: AI-powered assistance, Workload management, Time tracking & resource allocation, To-do lists, Budget tracking, Insights & forecast, Project plans, Comments, Invoice creation & accounting integrations, Gantt charts, kanban boards, and more
Price: Starting at $29 per seat per month with a minimum of 10 seats
Klient PSA is designed for professional services and SaaS businesses that manage their projects within Salesforce. From managing quotes to generating reports, Klient specifically helps professional services organizations manage and track their project lifecycles.
Features: Forecasting and estimates, project management, resource management, time and execution, customer experience, billing, and invoicing
Price: $49 per user per month when billed annually, plus $5 per user per month for client access
Accelo is an end-to-end cloud-based platform that helps professional service businesses manage all aspects of their client work delivery. This app centralizes client communications and activities, reduces time spent seeking out updates, streamlines workflows to increase efficiency and coordination, and provides up-to-date analytics that empower leaders to make smarter decisions.
Features: Task and activity management, dashboards, project planning via templates and project maps, time and expense tracking, and scheduling
Price: Starting at $25 per product per user per month when billed annually, with a minimum of 5 users
If you're looking for PSA software beloved by accounting and consulting firms, BigTime could be for you. Designed for small to medium-sized businesses, BigTime supports professional service firms from first contact with prospects to future growth through real-time insights.

Features: Time tracking, billing and invoicing, resource management, project management, workflows, reporting and analytics, and integrations
Price: Starts at $10 per user per month when billed annually, with a minimum of 5 user
The PSA for legal and accounting firms, AbacusNext focuses on improving efficiency. Offering a range of features, this tool leverages technology to automate repetitive tasks, improve practice management, and delight clients.

Features: Legal practice management, accounting practice management, online payment processing, document automation and management, and cloud hosting
Price: Contact the sales team for a product recommendation and quote
Need something task-specific?
Did you know that the average enterprise business uses 91 marketing cloud services? While the goal should be to bring as many tools under one roof as possible, it's important to understand when a task-specific app will benefit your business. Here are four great task-specific tools to complement your PSA software.
Questions to ask yourself
Here are eight key questions you should ask yourself when reviewing PSA software:
Features: Does this tool do everything my team needs it to do?
User-friendly design: Is this app designed to be easy to use, and will my team enjoy using it?
Access: Can all the necessary parties — employees, stakeholders, clients — access the tool, including on mobile?
Integration: Does this tool connect to all the other tools, apps, and software my team uses?
Customization: Does this tool offer customization options to tailor the software to my team's specific needs, or is it an out-of-the-box solution?
Support: Does the business that owns the tool offer support? Should my team have trouble getting set up or using the features?
Budget: Does this app fit my budget, and will my team use all the features I'm paying for?
Security: Will my business information and my customers' personal data be safe?
If you can answer all these questions positively, you're onto a winner!
Final thoughts
At Forecast, we strive to create meaningful tools that actually work. We connect deals to projects, projects to resources, and resources to financial data.
Implementing any new software or approach to working can be a challenge for businesses, but the time and financial investments required will pay off in the long run with a great ROI. After all, there's no gain without pain, but by taking a methodical approach to selecting the right tools to take your business forward, you will have happy customers and empowered employees in no time.
Subscribe to the Forecast Newsletter
Get a monthly roundup of productivity tips & hacks delivered straight to your inbox