Trusted by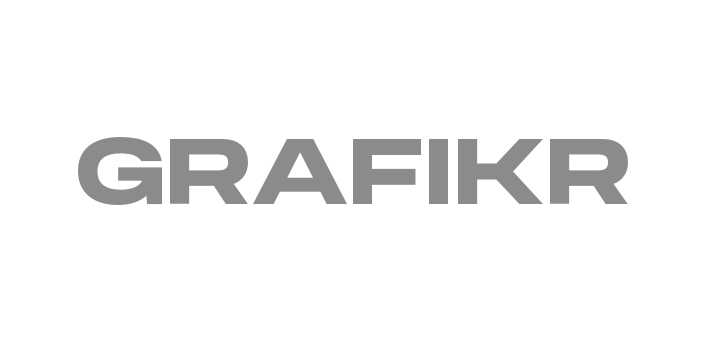 Only hire when you need to
Save hiring costs by anticipating future resourcing needs. Scope out the resources you'll need to deliver a project, and view the team's capacity in one place to avoid over-hiring or double-booking.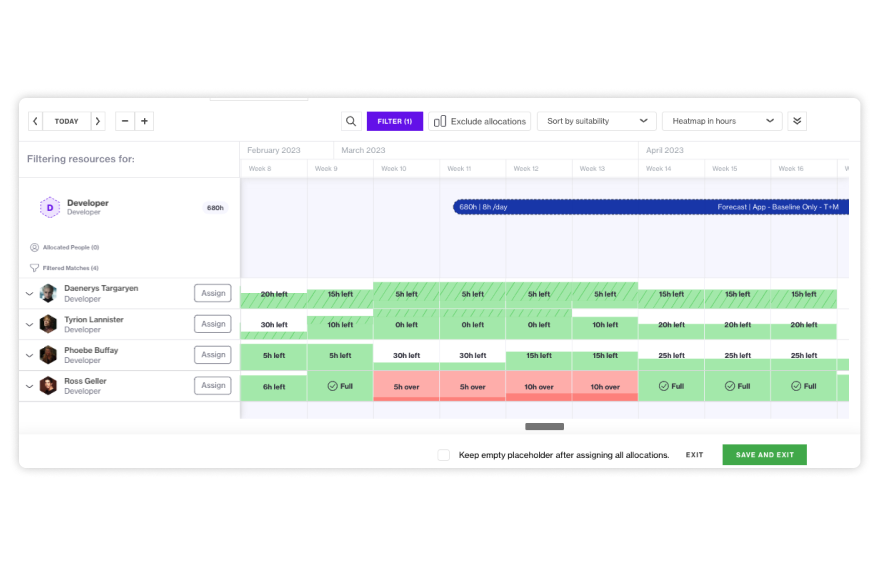 Bring predictability into resource planning
Get a more realistic estimation of your future resource needs by leveraging a project's win probability, based on data in your CRM, in the capacity overview.
Read more about resource management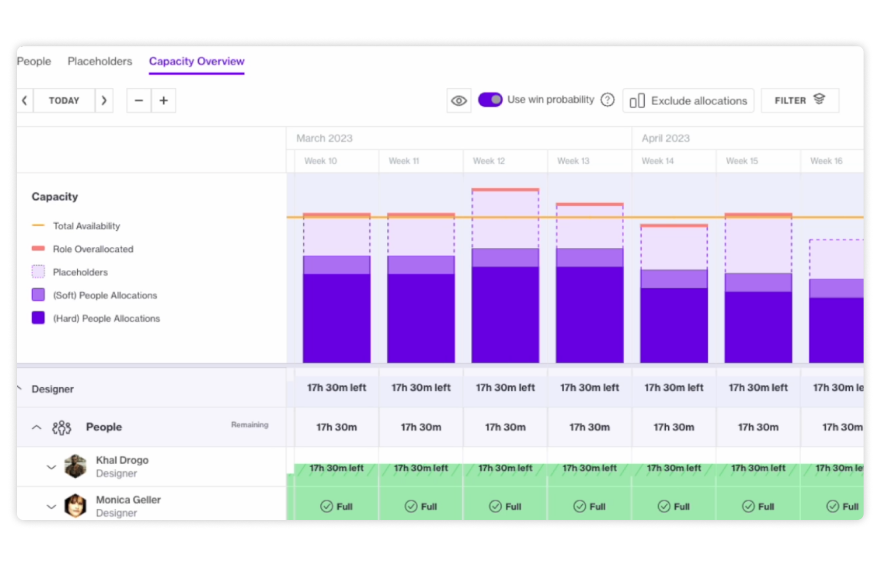 Streamline your planning process
Eliminate manual work and ditch the spreadsheets with an all-in-one solution. Scope out the resources you'll need to deliver a project with placeholders. Tentatively book or request resources for a project and get staffing recommendations from our built-in AI.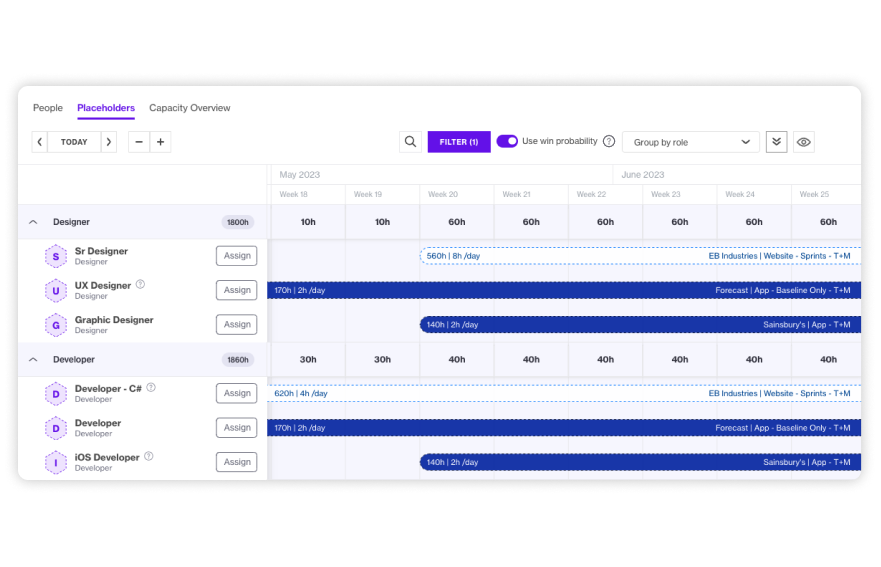 Win clients with confidence
Set your team up for success by understanding what you can actually deliver and when. Appropriately set expectations with clients, and ensure successful delivery of your projects by knowing you have the people to make them happen.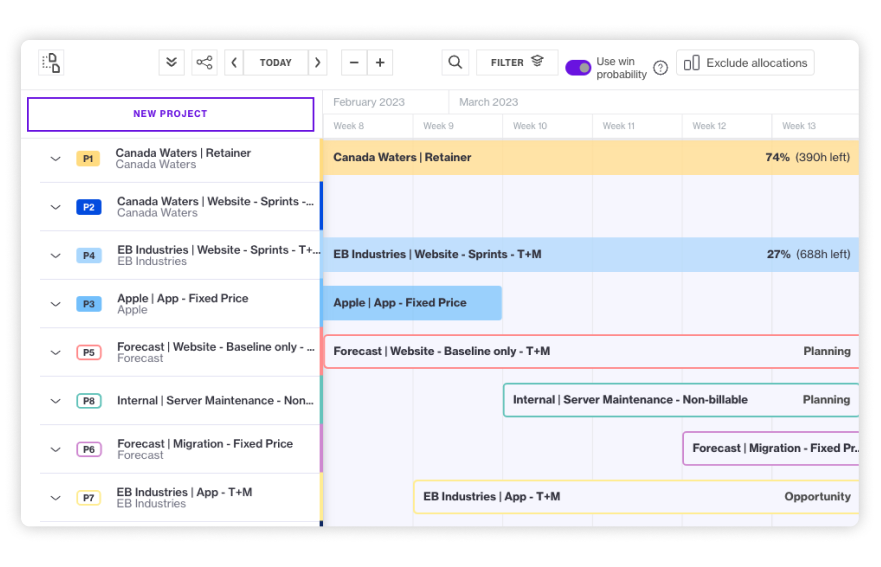 Retrieve utilization reports on-demand
Run reports to get a birds-eye view of the entire portfolio and make top-level strategic decisions with ease. Easily see overall work utilization and billability in order to drive efficiency.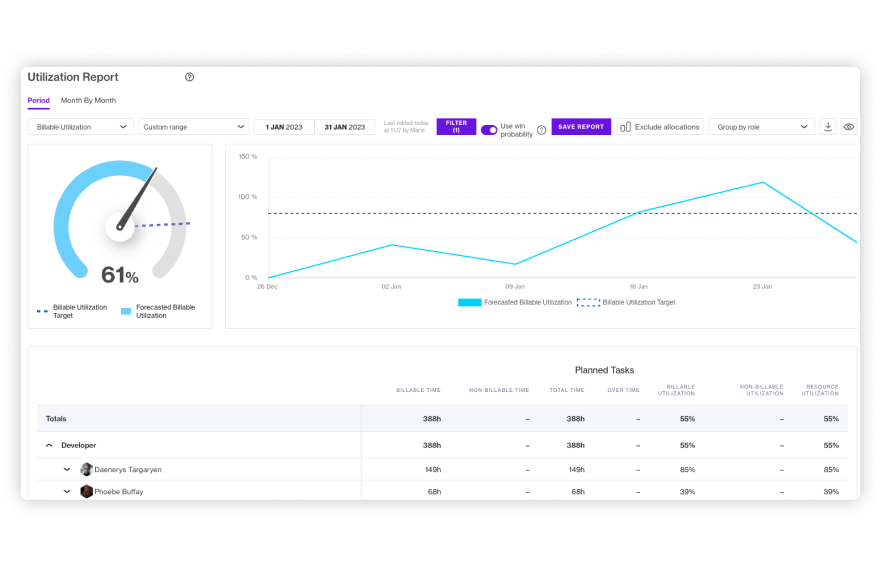 Artificial Intelligence
Putting the power of AI to work for you
Our advance AI technology enables intelligent recommendations so you can be more proactive.
Risk warnings
Understand the true status of your projects. Forecast flags issues proactively, so you can take preventative action to stay on track.
Team focus
Ensure your team works on the right things to deliver maximum business value.
Predictable execution
Ensure on-time delivery of your tasks, project, and programs without all the administrative work.
Financial control
Cut costs and maximize your profits with real-time insights into financial performance.
Integrations
Integrate your tech stack
The AI-driven platform that brings all your data together to streamline projects, resources and financials.
Explore integrations
What our customers say

"Forecast has combined a lot of formerly disparate processes in one single platform. Schedule & Timesheets in total have saved us 15-20% admin time per week."

Drew Saucier

VP of Project Management

What our customers say

With Forecast, Sagittarius reduced administrative work by 50% and increased billable work by 40%.

Joanne Reid

Head of PMO, Sagittarius